First, make sure you have integrated your Corvum and Clio accounts.
If you have not yet done this step, refer to 'Connecting to Clio' guide
You can turn on 'Automatic SMS Posting' by navigating to Settings > Integrations on the Corvum Portal.

Once you are there, you can toggle on/off the automatic SMS posting.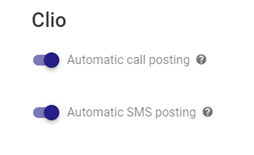 Note: Every time you navigate to this page, your settings take 3-4 seconds to load. Your icon will appear off until it loads.
Your SMS messages will be automatically posted to the 'Communications tab' of your Clio Manage.

There you will be able to see the pertinent information regarding each message.
If you are messaging a contact which is not saved in Clio, we will post the number in the body of the communications log.

This is all done automatically. You do not need to manually link each communication to Clio.

The billable time can be adjusted from within Clio, depending on how much you would like to charge on a case-by-case basis.