Believe it or not, connecting the headset is actually easier than it seems!
When you first open the boxes, you'll be faced with a befuddling combination of cables, which might seem a bit ridiculous.
However - you just have to check that you're using the right cables. The headset comes with one cable that you do not need to use - you will use the separate EHS cable instead of this one.
The cable that you do NOT need to use has a little 'box splitter' with an image of a handset on it. Just put that cable back in the box, and forget about it.
Then, the process needs to be completed in two parts:
Plug in the physical connections.
Then, enable the headset on the phone itself.
First, connect the handset base station to power, and place the headset on the base (you'll want to charge the headset for about 20 minutes).
Then, the physical cable connections need to be made. There are 4 plugs to connect, and 3 of them have unique sockets to connect with:
Locate the EHS cable, this will be in a separate small box and should be labelled 'APP-51' / 38439-11.
One end of the EHS cable has a large, 2-prong 'joined' socket. One prong looks like an internet or phone plug; the other looks kind of like a headphone plug. This end connects to the headset base - there is only one way to connect it so that both plugs fit.
The other end of the EHS cable is split: one side is a 'multi-plug', the other is an RJ-9 phone plug.
The 'multi-plug' plugs into the only socket that fits, on the back of the phone. Be gentle with this and make sure it is going in the right way - there is only one way this will fit.
The remaining 'phone plug' connects to the 'headset' socket on the back of the phone.
Here is a diagram of the connections to be made: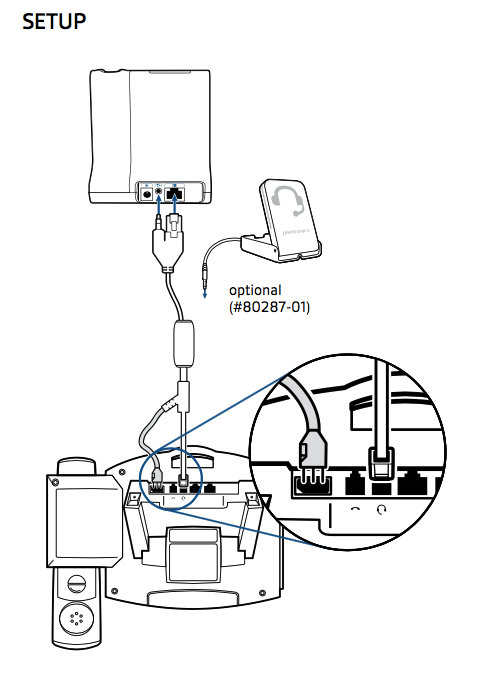 Then, you'll want to check the microphone and speaker settings. The diagram below shows the most common 'good' setting for this.

** CRITICAL STEP BELOW **
Finally, you need to set the EHS mode on the phone itself.
Press the 'home' or 'menu' key, and navigate to the 'settings' menu. On VVX phones, the image will be a 'gear'.
Navigate to 'Basic / Preferences / Headset / Hookswitch Mode
Select 'Plantronics EHS'
When prompted 'Are you sure?', select 'Yes', and the phone will reboot.

Now, while wearing the headset, you should be able to press the button on the headset to take the phone off-hook - you should hear dial tone in your ear, and see the phone go off-hook.