Description
This feature allows you to assign a group of phone numbers, extensions or physical telephones that ring together with the same call route. You can adjust different ring groups to include different devices or users. We can create as many Ring Groups as you need!
Benefits
It is important that client calls are answered in a timely fashion. Ring groups help your firm be responsive. Ring groups allow firms to divide their workforce based on important aspects of their operations, whether it is client intake or other common activities.
Application
Add multiple users and/or devices to a single call route.
Choose designated phones to ring simultaneously, or sequentially depending on your firm's preferences. (Once a call is picked up by someone in the group the ringing stops)
If nobody answers the call in a ring group → Choose which voicemail it goes to
Examples
Some clients want all calls to ring everybody in the firm at the same time, other clients have designated people who answer calls and transfer them to the intended recipient.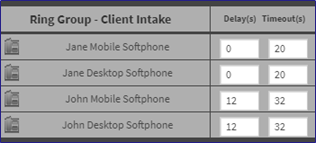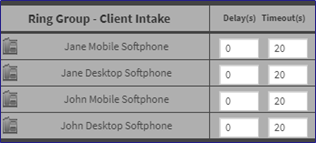 If you have dedicated team members who answer calls, you can route calls from your main line to a ring group. This means that all the users/devices included will be rung either at the same time, or sequentially based on time intervals you provide.