The Corvum Portal features the 'Call History' tab, where you can review calls that have been routed to you, or that you have made, in the past. You can add notes to calls here, and if you have practice management software integrated with Corvum, you can assign particular calls to matters and contacts here as well.
However, the Call History tab does not load more than 100 calls at a time. When you first view this page, you'll see that it has loaded 100 calls:

You can change the selector to view more than 10 calls at a time, or view all 100 calls: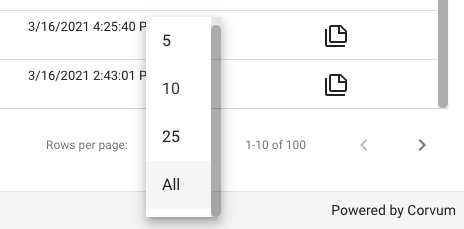 However, if you are in the 'All' view, the page will not load any more calls than the first 100 it initially loaded.

To get the page to load more calls, you need to switch to a different view (the '25' is the largest available at this time):

Then, use the pagination arrow to view the last page of call records. The page will load additional calls in a few seconds, and display that there are more to view. The page will load 25 at a time: